Get a faster website
in a few clicks
No coding required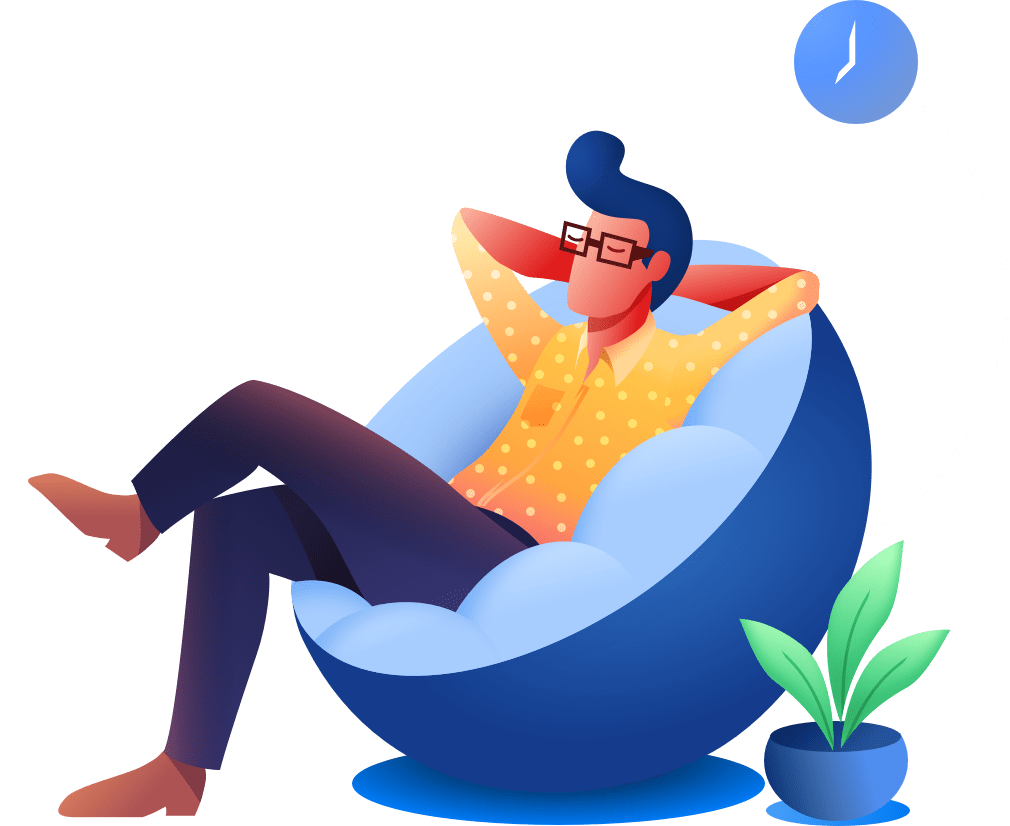 BASE WordPress optimization plugin and disable ultimate tweaker FOR FREE
Super simple installation in 3 minutes
This is a universal WordPress optimization plugin. Since we've started working with clients 8 years ago, we've managed to collect the most useful WordPress optimization functions and combine it all in one. The biggest advantage is that it doesn't replace such plugins as Yoast SEO, Autoptimize, Wp super cache. It, instead, completes them and increases productivity.
If you haven't heard about our plugin before, then, most likely, you'd ask yourself one simple question: "What are the use cases and project types where I can use this plugin?"
Examples below describes general functions, which can be used for various website types. The list of all functions can be found when you install the plugin on your website.
Why all WordPress websites should have this plugin?
We are 100% sure that you use SEO, caching and security plugins! Clearfy extends their functionality, fixes the errors and deficiencies. You get a large set of hacks and functions for 100% free!
Exclusive Lifetime Deal for Clearfy Business expires after:
Clearfy Business is a paid package of components for the popular free WordPress plugin named Clearfy. You get access to all paid components at one price. Paid license guarantees that you can download and update existing and future paid components of the plugin.
Note! With the increasing number of paid components, the prices will grow. Purchase the license right now and get access to a lot of new tools within a lifetime for free.
100% money back guarantee. Without any risks!
Such cases are rare, but if needed, we can refund your money for orders not older than 30 – days.
When designing the plugin interface, our primary focus was its usability and speed of settings.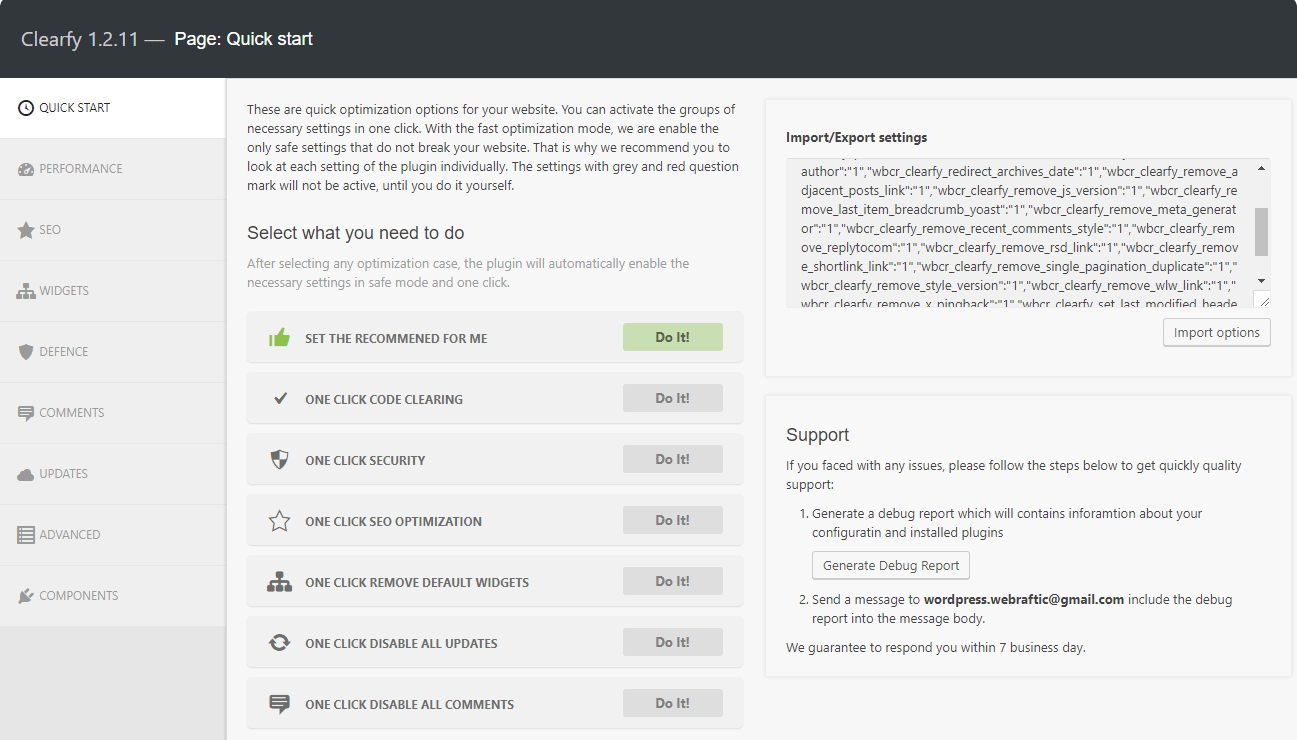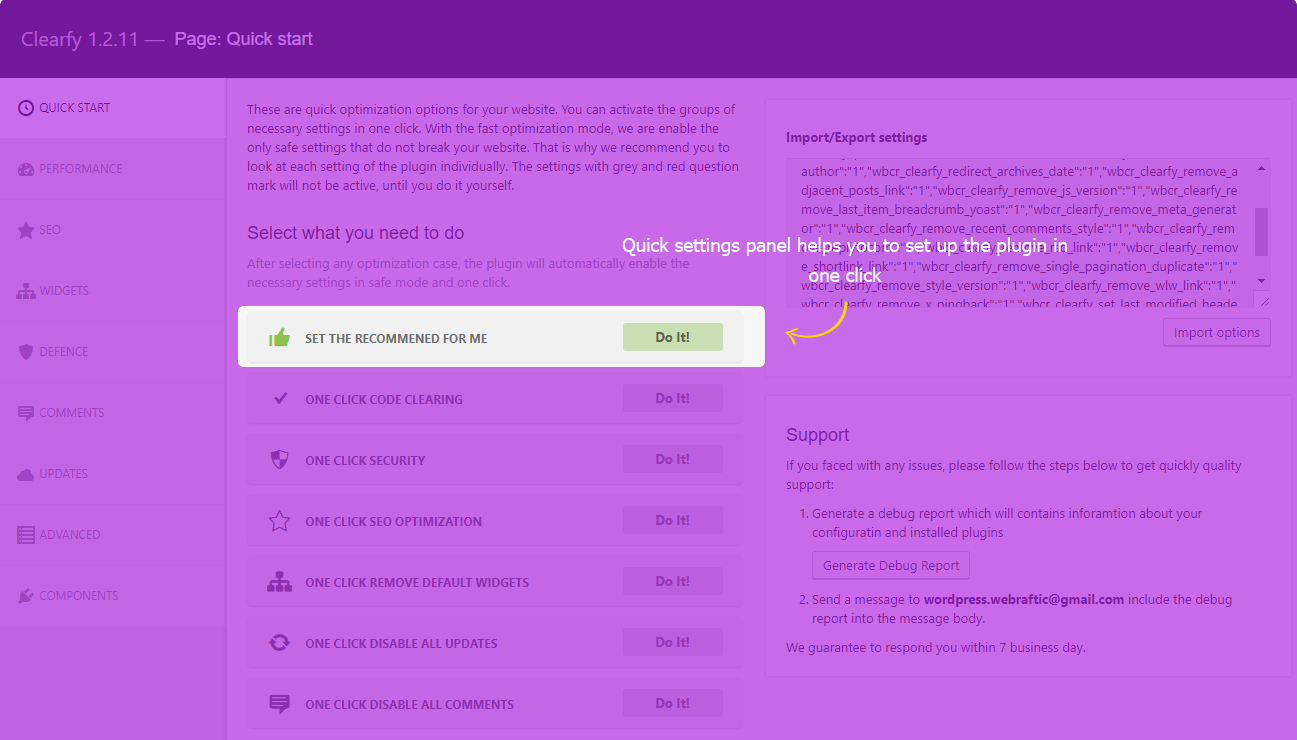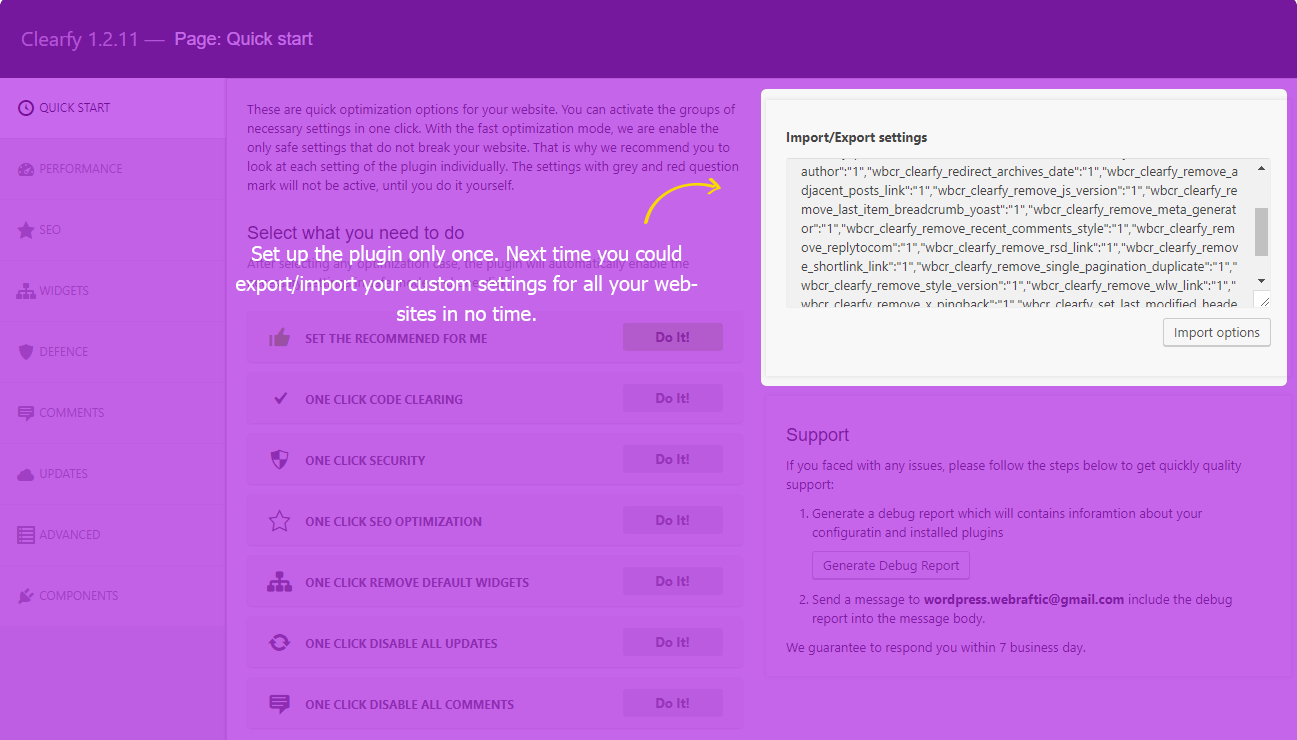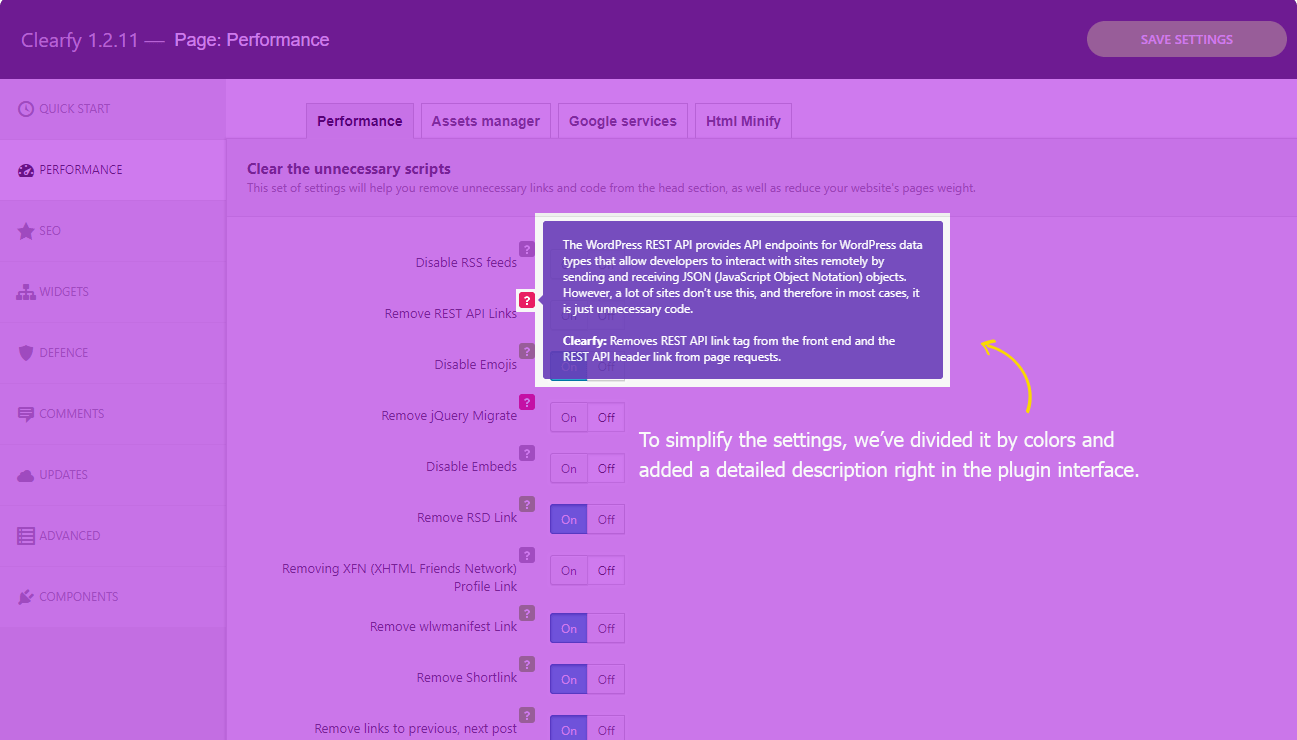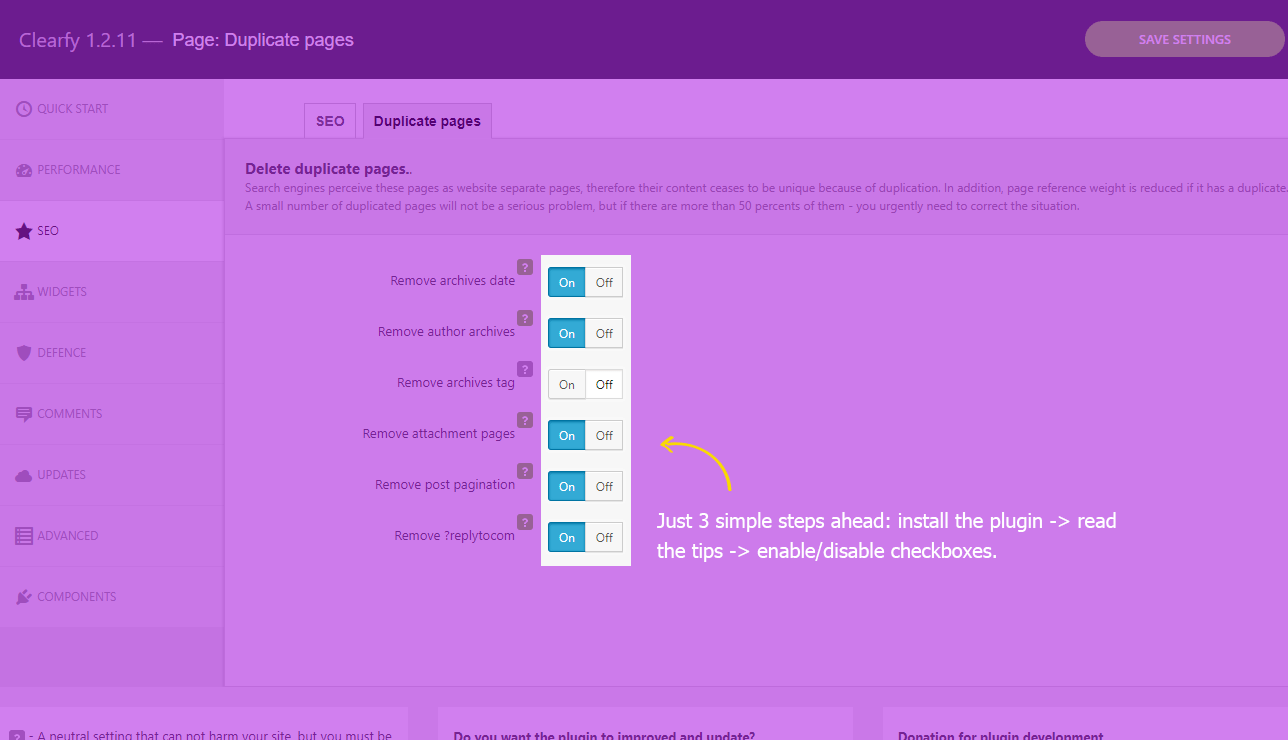 WordPress is a universal CMS, which means that the platform is full of different functions and widgets in order to customize the website to various themes. Clearfy allows you to disable unused functions and widgets, which mean you will get rid of all irrelevant!
Frequently Asked Questions
Is it possible for a group to buy one shared license?
All paid components are distributed with unique tags in the plugin code. So if you post the archive with the code publicly, we can easily track the owner of the license and block the license for violating terms of usage. Note! This premium package works with the free Clearfy plugin only. All cracked packages will be working for 2-3 weeks maximum, as the free plugin is updated frequently. So think again, what is best for you: to pay someone for cracking the license & updates or to purchase a fully supported and legal license.
Can I install the premium package to my customers' websites?
Yes, you can. In this case, you'll need the "Business revolution" license. You are solely responsible for all active licenses and should control their usage. You and your customers cannot resell the license, causing the dumping of our prices. Your customers should comply with our rules. If one of your customers posts the premium package and allows public access to it on a private nulled forum, in a nulled store or for clubbing, your license will be blocked. We will make several attempts to contact you and find out why this happened. After that, we will block the old key and give you a new one. All paid components are distributed with unique tags in the plugin code. So if you post the archive with the code publicly, we can easily track the owner of the license and block the license for violating the terms of usage.
How fast can I get a technical support?
Clearfy Business users can get a tech support within a day (except weekends). You can get a tech support for the free Clearfy plugin within a week.
Is Clearfy compatible with the GDPR?
Yes, Clearfy and Clearfy Business meet the GDPR requirements. Clearfy doesn't store nor has access to any personal data.
What are the system requirements for the plugins?
The minimum PHP version – PHP 5.3. WordPress version – 4.2 or higher. Clearfy Business supports the following servers: Apache (with mod_rewrite, mod_expires, mod_deflate), NGINX, Litespeed or Windows.
Have you tried Clearfy for free?
Based on our users' opinion, Clearfy helped them to solve optimization problems and speeded up their projects.
Ritchie Pettauer
I've been blogging for 12 years and I have no idea why I discovered Clearfy only recently. This is a genius plugin in so many respects… keep up the great work.
Tobias Mattz
This is one of the plugins which hooks you from the first moment. Super beautiful user interface and big bunch of really awesome options to slim down WordPress. Disable comments, manage scripts, disable unused features, improve security. I'm using it on every project. Highly recommended plugin.
Nick Buso
Great performance from this plugin. Does it's work quietly in the background. Has worked great on our WooCommerce site with Dreamhost hosting. Has been stable and reliable and is regularly enhanced. Great plugin!
Bill Twinsley
Hello! I have a "twenty-fifteen" theme. After applying this plugin, I have following results on Page Speed Tools: mobile – 93 (was 73), desktop – 95(was 89) with a notice from Google: "Great job! This page applies most performance best practices and should deliver a good user experience." I am very happy! Thank you very, match indeed!
Bryan Granse
I already sent a donation to the developer and want to thank him here again. What a great plugin seriously. So simple to use, but offers so much in the way of eliminating junk and security flaws. The new version even added the ability to change your login address for security. AWESOME!!!! I always want to minimize the amount of plugins I have installed, and this is helping me do that more and more with every release. PS – PLEASE PLEASE PLEASE do not discontinue development of this amazing plugin.
Marcus Quinn
Clearfy has reduced the need for 3 other performance plugins down to just this one with all the features of the others combined into a neat and very well commented interface. "Clearfy" + "W3TC" + "WordPress Performance Pack" = the fastest possible frontend & admin performance we have been able to achieve with over 150 plugins running!