The WordPress admin notices can be very annoying. We will introduce easy method to get rid of them once and for all.
How to Disable Admin Notices in WordPress?
Do you have many plugins installed? Do you receive way too many notifications in the WordPress Dashboard? By default, WordPress displays some notifications on the homepage of your Dashboard. Notices can tell you something important, but most often this is a premium version advertisement, "give us 5 stars" or something else that just annoys you, clogs up the Dashboard and prevents you from concentrating on your work.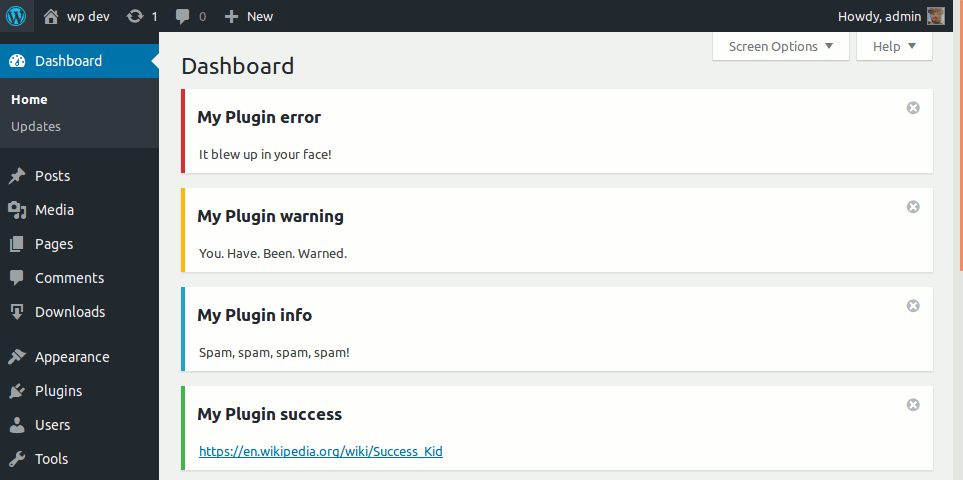 WordPress is a flexible CMS. You can add or remove features to it by installing or removing plugins. There are thousands upon thousands of plugins that can add different functionality to your website. The Disable Admin Notices Individually plugin can take care of annoying notices in the WordPress Dashboard.
All of us are tired of the notices displaying on the homepage of the WordPress Dashboard, with the help of this plugin, you can turn off notices forever and individually! This works for notices from plugins and WordPress itself.
This plugin adds a "Hide notification forever" underneath each notice in the Dashboard. By clicking on this link, you will never see the notification ever again. You can use this method to only disable the annoying notices that keep popping up on the homepage and let WordPress keep displaying the important notices like updates.
Besides, in the configurations, you can set the plugin to completely disable all notices site-wide. In this case, the plugin removes WordPress admin notices and keeps the important update notices.
In addition, there is a special place in the top admin bar which collects all the notices in one place. By default, this feature is disabled in WordPress. However, you can enable it through the plugin's settings.
All you have to do is to download the plugin from the official WordPress website or directly from the WordPress Dashboard. Install, and activate it and you're good to go!
To Disable WordPress Admin Notices:
Login to the WordPress Dashboard
Hover over Settings and click on Hide admin notices plugin
In the Hide Admin Notices tab you have three options. All notices, Only selected and Don't hide
By selecting All notices, you have the option to enable or disable hidden notices in the admin bar.
By selecting the Only selected you have the option to enable hidden or disable hidden notices as well as reset hidden notices for all users or the current user.
Don't hide turns off the plugin. So, it won't display the "Hide Notification forever" in the WordPress Dashboard.
Besides, if you come across any problems you can submit a ticket and ask the developers to help you with it.
we have added more new features to save you from annoying notifications and ads in the admin panel
No more need to hide each notification.
Collapse all notifications in one line (panel with notification counters), to see the notifications, you will need to click this panel.
We cleaned your admin bar, no more menus and ads. Simple management of hiding the menu in the admin bar.
Turn off annoying nags about updating WordPress and plugins with one click
Мakes it possible to create a list of advertising redirects and block them.
block custom notifications from many popular plugins
multisite friendly
white label
advanced management of hiding notices
"Great plugin to keep your admin area clean and lean. I was glad to find this plugin to disable an annoying admin message where the developer removed the close button. I removed that message perfectly with this lovely plugin. Thank you so much to clean up the WordPress mess other developers create."
"Does EXACTLY what it was designed to do. Does not conflict with anything on my websites… No more annoying notices from anyone anymore. Now I can get some work done!"
"I love that I can permanently disable notifications on a per-user basis so I can see necessary alerts but my clients don't'! Bravo."
"It is simply the most useful plugin for my website. I no longer have to deal with annoying pop-ups and notices asking me to upgrade to premium versions. Just one click on the dismiss button and the notices are done forever.
Thank you guys for this thoughtful plugin!"
"Seemingly everyone wants your attention in the admin panel, and that's fine, but not every plugin will honor your request when you close a notification.
There was another plugin that hides all notices–basically the nuclear option–but some messages are genuinely useful, so I found this plugin.
For those pesky notifications that just won't quit, this plugin is essential to keep you sane before exploding with information overload."
Please read the instructions on how to buy and activate the license for the Disable Admin Notice plugin.
Note! With the increasing number of paid components, the prices will grow. Purchase the license right now and get access to a lot of new tools within a year for free.
100% money back guarantee. Without any risks!
Such cases are rare, but if needed, we can refund your money for orders not older than 14 days. Please, check our Refund policy in FAQ.