What Are Duplicated Pages?
Owners of WordPress websites are getting worried when certain pages lower in search results for what seems to be the unknown reason. However, this may happen because of duplicated pages. Duplicated pages are the pages with the same or similar content. Usually, they are archives with dates, categories, authors, and comments. These pages may also have different URLs, which contribute to the unnecessary competition with the main post for the ranking positions. In this article, we will teach you how to remove duplicated pages in WordPress.
Creating Duplicated Pages
As we've explained above, duplicated versions of posts on pages are also created in archives with dates, categories, and even pages with comments. That helps users to filter posts using certain criteria. The system does it automatically.
Let's see how it looks like in date archives. For example, we need to filter all November posts. Open a home page of your website and click on the necessary month.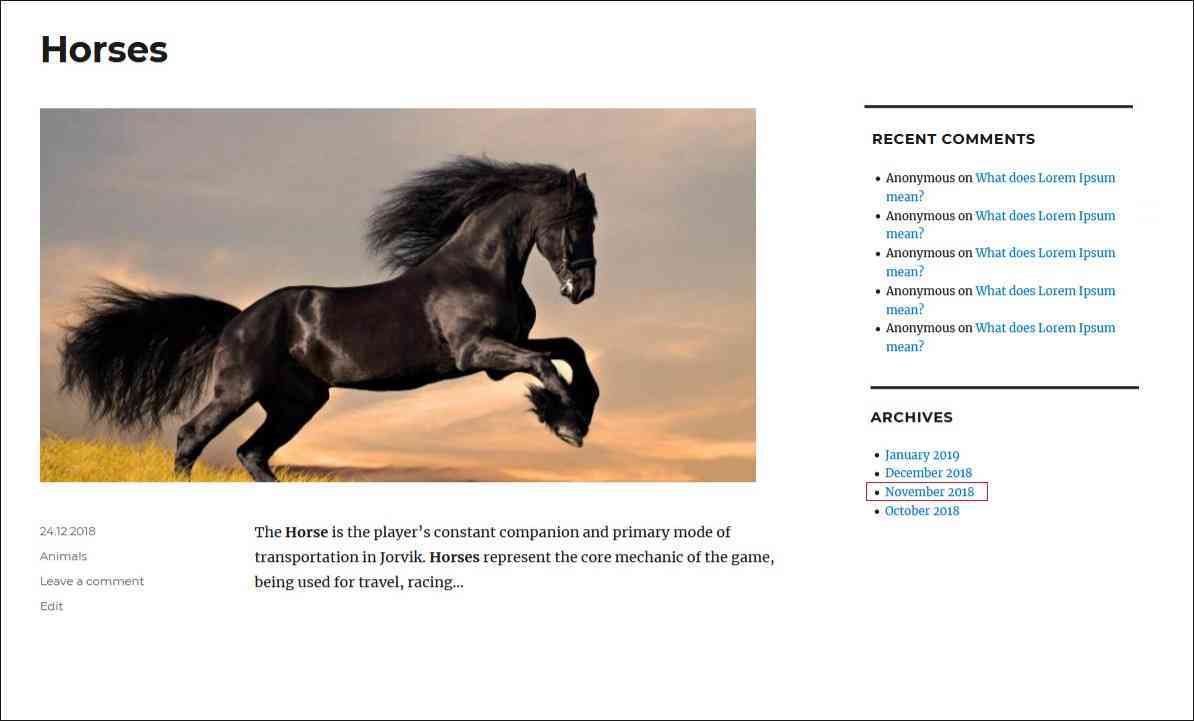 Once you click November 2018, you'll see the list of all articles posted in November. That's a great example showing that WordPress creates separate pages for date archives. Now it's time to refresh our memory about indexing additional pages and the negative effect it produces for promotion. Check out another article on how to remove WordPress attachment pages.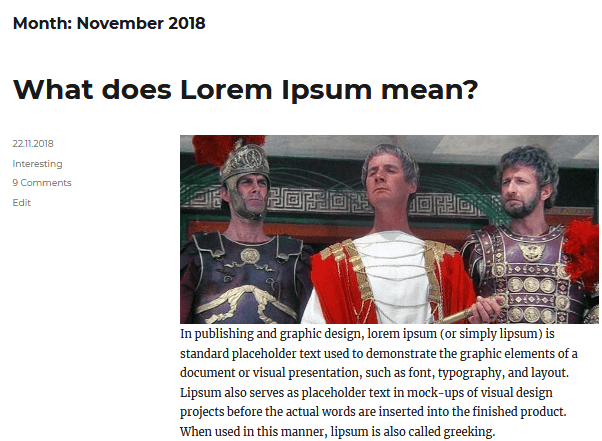 Duplicated Pages in Comments
When working with comments, you should expect duplicated pages in discussion trees. So if the amount of comments exceeds the capacity of one page, some of the comments will be moved to the next pages. In this case, you should make sure that you actually remove duplicated pages in WordPress. Otherwise, once being indexed, these pages will become a pitfall for users who will open a comment page instead of the original post and, most likely, leave your website for good. Of course, your SEO will suffer from a high bounce rate.
Remove Duplicated Pages in WordPress
Preventing harm is the key. You should remove duplicated pages in WordPress. And you can do that with Clearfy – the website optimization plugin. It offers a range of useful features helping to remove duplicated pages. Download the plugin and install it. Activate it.
Once it's done, go to Settings => Clearfy menu =>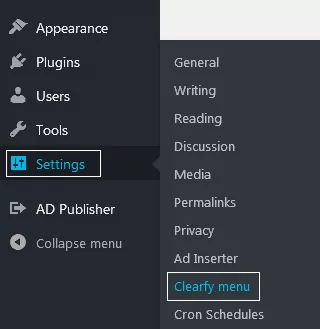 => SEO (left bottom side of the plugin menu) => Duplicated pages.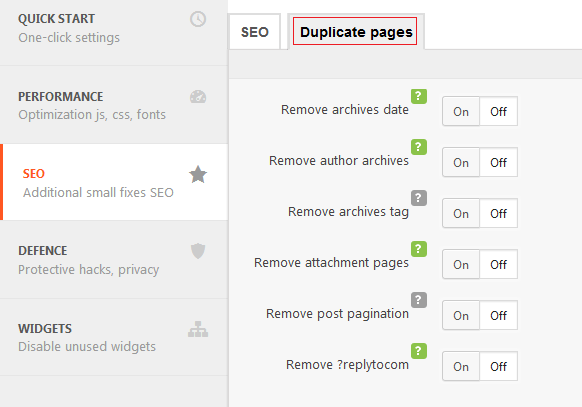 The Procedure
Let's start from the beginning and remove the date archive. Please, note that we will not be removing pages. What we are about to do is to close them from indexing. It's more important rather than removing duplications. If a search engine doesn't find the duplicated page, a user will open the original post – the one we need him to see – and won't get lost in the variety of clones. Press ON to enable the feature.

When it comes to author archives, the procedure is pretty much the same: instead of removing duplicated pages, you simply close them from indexing and add a redirect from the duplicated page to the original post. Make sure to activate the following feature:

To remove author notes, set a redirect from tag pages to the original post and activate the feature below. Check the grey color mark with the question icon – it says that the feature won't cause any negative effect.

For each image or video, WordPress creates an individual attachment page. It becomes a real pitfall for optimization. Check this post to know why. Press ON next to the option below.

For pagination with the possibility of placing content on several pages, each URL will have some kind of the order number. If needed, you can remove pagination navigation with Clearfy. In result, all pages of one post redirect to the original URL. Press ON to enable:

The hierarchy of discussion trees is a pleasant medium for generating duplicated pages. It looks this way: you reply to a comment, and the URL instantly shows the ?replytocom variable. For search engines, any differences in URLs look like different pages, instead of being a regular comment. If you'd like to remove duplicated pages in WordPress enable the feature and set up the redirect.

Conclusion
Time and efforts spent on the website promotion can be wasted in vain. If you don't get rid of duplicated pages, they can compete with the original resources for ranking positions. We hope that after reading this article you've realized how important it is to remove duplicated pages in WordPress and can do that by your own in no time.